The Supreme Court's decision in the LGBTQ+ 303 Creative case
Kate Sosin, 5 months ago
0
6 min

read
Originally published by The 19th
Your trusted source for contextualizing the news. Sign up for our daily newsletter.
The Supreme Court ruled 6-3 Friday that Colorado could not force website designer Lorie Smith to serve LGBTQ+ couples seeking wedding websites.
The ruling has massive implications for LGBTQ+ anti-discrimination protections and other civil rights laws, as legal experts say those policies are now vulnerable to reinterpretation by courts.
Justice Neil Gorsuch wrote for the court's conservative majority, with Justices Sonia Sotomayor, Elena Kagan and Ketanji Brown Jackson dissenting. The justices ruled that the First Amendment shielded businesses owners from speaking against their conscience. Smith claimed that it was a violation of her religious beliefs to make wedding websites for same-sex couples.
"Colorado seeks to force an individual to speak in ways that align with its views but defy her conscience about a matter of major significance," wrote Gorsuch.
LGBTQ+ advocates say the ruling leaves anti-discrimination protections unenforceable.
"Today, the Court, for the first time in its history, grants a business open to the public a constitutional right to refuse to serve members of a protected class," Sotomayor wrote in her dissenting opinion.
RELATED: Need a custom website for your LGBTQ+ wedding? One Colorado agency is giving away 10 free website designs
What was this case about?
Colorado-based website designer Lorie Smith sued the state, claiming that its anti-discrimination act forces her to make art—in this case wedding websites for queer couples— that is contrary to her religious beliefs. Smith wants to post a notice on the webpage of her business, 303 Creative, noting that she won't design websites for same-sex marriages. Smith claimed it is her First Amendment right to turn same-sex couples away because she is making custom websites, and the government can't force her what to say.
The Colorado Civil Rights Division argued that businesses serving the public can't choose to deny service to a group of people who are part of a protected class, including LGBTQ+ couples, and that Smith needed to serve all customers, regardless of their sexual orientation.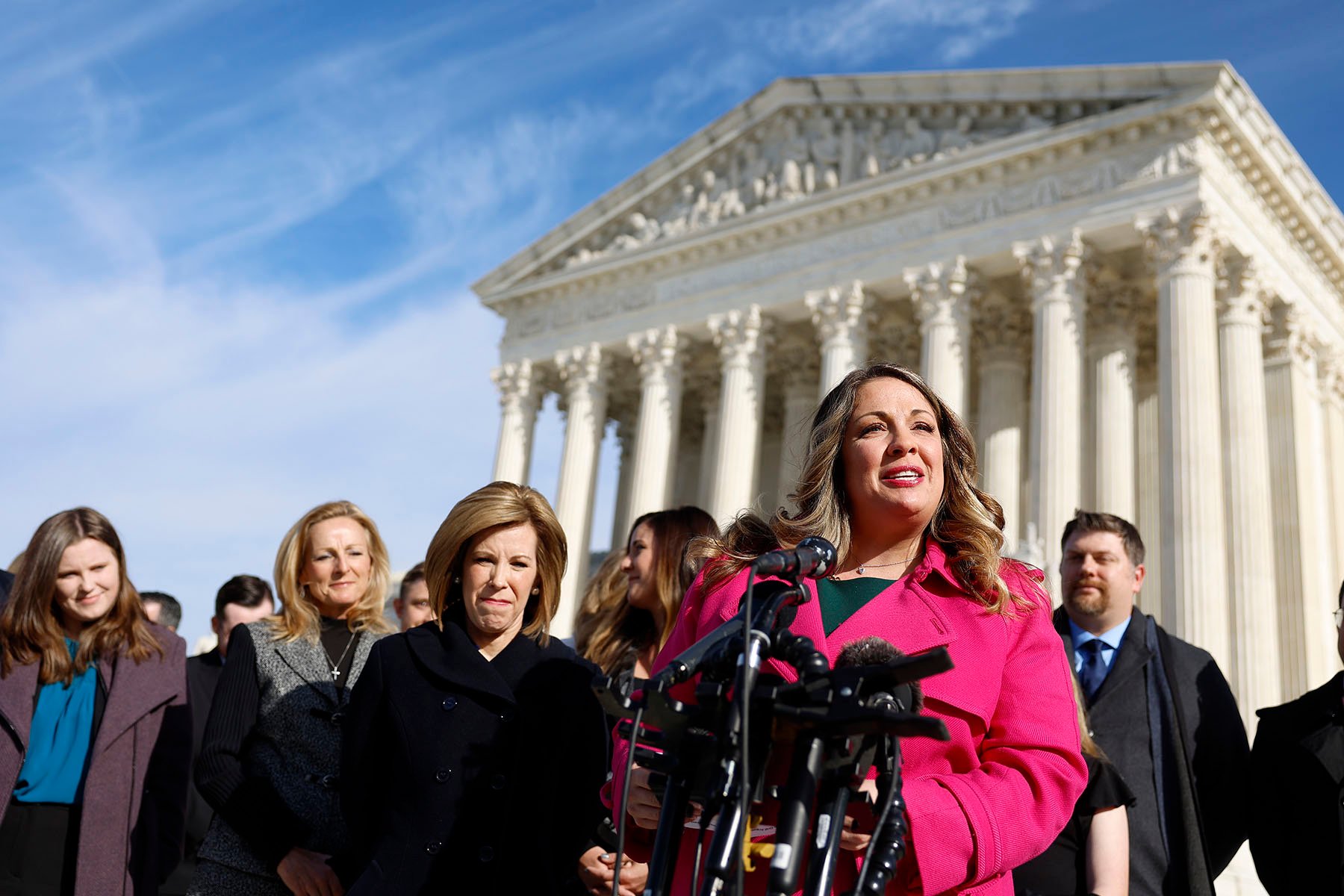 Who is Elenis?
Unlike similar cases that predate this one, there wasn't a same-sex couple suing the business for discrimination. 303 Creative is Smith's business, and Elenis is Aubrey Elenis, director of the Colorado Civil Rights Division, who was sued in her professional capacity and listed first. Members of the civil rights commission were also named in the complaint, as was state Attorney General Phil Weiser. The commissioners are tasked with enforcing Colorado's anti-discrimination act, which says that a person cannot be treated differently because of sexual orientation or gender identity.
The fact that there wasn't a couple alleging discrimination is part of what made this case so unique. Instead, Smith sued because she wanted to advertise that she wouldn't make wedding websites for same-sex couples. In some ways, that thrust the case into the realm of hypotheticals, since no one had been turned away from her business.
Who was really facing off here?
As with a lot of big cases, this was not just about a disagreement between a small website business in Colorado and the state. Smith was represented by the Alliance Defending Freedom (ADF), a far-right legal organization that has brought similar cases. Some advocates, including the Southern Poverty Law Center, have designated ADF an extremist anti-LGBTQ+ hate group. Others who filed briefs in support of Smith include the U.S. Conference of Catholic Bishops and the National Association of Evangelicals.
Colorado was represented by Weiser. Others who have filed amicus briefs supporting the state commission include the American Bar Association, the NAACP Legal Defense and Education Fund and the American Civil Liberties Union.
Didn't the court already decide this five years ago? With cake? 
In some ways. In 2018, the Supreme Court took up a similar case, Masterpiece Cakeshop, Ltd. v. Colorado Civil Rights Commission, and very narrowly ruled in favor of the baker, Jack Phillips, who refused to make a custom wedding cake for Charlie Craig and David Mullins. Phillips was also represented by ADF.
In that case, the Colorado Civil Rights Commission had ruled that Phillips violated the state's anti-discrimination act by turning the gay couple away. Phillips' lawyers argued that his religious beliefs and free speech rights shielded him from having to bake the cake. While the case could have had a profound and lasting impact on civil rights law, the Supreme Court declined to fully engage with larger legal questions. Instead, the court ruled that Colorado commissioners had displayed animus toward Phillips due to his religious beliefs. They ruled in Phillips' favor, but shied away from a sweeping ruling on religious beliefs or free speech rights that would have impacted other businesses in Colorado or beyond.
What is different now?
Ever since the Masterpiece case, courts have seen a number of cases that seek to revisit the enforceability of state and local anti-discrimination protections for LGBTQ+ people. Religiously affiliated anti-LGBTQ+ legal organizations have argued that officials can't force business owners to endorse same-sex weddings against their faith. Some legal experts have expressed  that Smith's case was particularly tricky because her services include writing stories for each engaged couple, instead of just selling templates. Those stories, Smith and her attorneys say, are art.
What was the argument in favor of 303 Creative? 
In arguing Smith's case, the attorneys at the Alliance Defending Freedom (ADF) claimed that if Smith was forced to provide wedding websites to same-sex couples, any working artist would lose the right to control their commissions. One example attorneys raised was a Democratic speechwriter being forced to write speeches for a Republican candidate. Attorneys said Smith would be happy to provide non-wedding websites to LGBTQ+ people, but she isn't willing to create custom wedding narratives for same-sex couples who want to marry.
What was the argument against 303 Creative?
Lawyers for the state and LGBTQ+ legal organizations countered that under the criteria presented by Smith, it would've been nearly impossible to differentiate between what is art and what is a public accommodation or service. More than that, they added, political parties are not protected classes. Business owners can choose not to take commissions because they don't agree with a political candidate.
"If somebody looks at a wedding website or receives a wedding invitation … whose information do they think it is?" asked Jenny Pizer, chief legal officer of Lambda Legal, the nation's largest LGBTQ+ legal group. "Do they really think that it's the information of the person who created the website or did the design? It's a work for hire by people who have information to distribute."
Why is this such a big deal?
Olivia Hunt, policy director for the National Center for Transgender Equality, said the ruling could impact protected groups for generations to come.
"It would potentially carve out a new and really dangerous loophole in civil rights protections, not just for LGBTQ people, but it could potentially create a precedent that would weaken civil rights protections for all people on any basis," she said.